Catalyst Open Source Academy
The Open Source Academy is a Catalyst initiative designed to provide training and work experience for young New Zealand technologists. We run the two week Open Source Academy in January each year and a three day Arduino Academy in the July school holidays
"[My student] was so excited about her work at the Catalyst Open Source Academy over the holidays... you've opened her eyes to new possibilities."

Wellington IT teacher
What is it?
Our Open Source Academies give secondary school students a taste of real open source development through a combination of classroom sessions and hands on project work. By organising and funding the Academy, Catalyst aims to show young technologists how to participate in open source communities and to fully explore their passion for IT through freely available open source tools.Open source acadamy
To meet the growing demand for open source technology across the public and private sectors, both in New Zealand and internationally, our Academy aims at attracting the IT talent that is needed.
The Open Source Academy has been running annually in January since 2011. Since then, we have had three of our students get full time permanent jobs here at Catalyst, with a number more in paid part time or holiday work as they finish school or University.
Our first short Academy started with Arduino Academy held in July 2013. We have had some students attend both the Arduino Academy and the Open Source Ac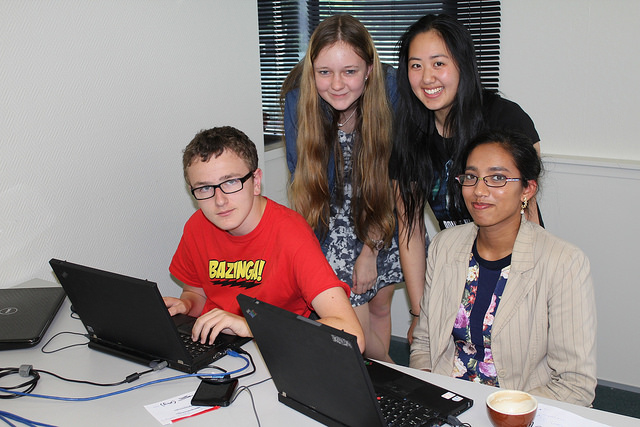 ademy.
Both Academies are run out of Catalyst House in Wellington CBD. Our mentors and teachers are those who work for Catalyst currently and have a passion to share everything about open source. That said, we also get Catalyst staff from around NZ (and Australia) come to Wellington to run sessions for our Academies. It is also exciting to see keen families and schools from around the country get students to join us to expand their learning.
Open Source Academy
Aimed at senior secondary school students, our Open Source Academy is a two week programme to learn about, and work with, Open Source technologies. We help get Academy students to the point where they can contribute to an open source project during the Academy and the skills to continue on.
The first week is about learning the common tools and practises that we use for our clients daily. We use the process of building a small application to cover things such as licencing, accessibility and understanding the requirements of the application. The application comes together as we learn about HTML, CSS, JavaScript, Apache, MySQL, PHP and Python. Students are guided through installing a laptop with Ubuntu which they then use throughout the Academy. They use a server they have configured in our Catalyst Cloud.
The second week has a focus of working on a real Open Source project. Working with developers who really know the project, the students work towards getting a patch into the source code of the project. Over the years we have had students contribute to Drupal, Koha, Mahara, Piwik and SilverStripe.
Arduino Academy
First run in July 2013, The Catalyst Arduino Academy is 3 days of learning about the Arduino, the open-source electronics platform. We hope we can inspire senior secondary school students to continue to further develop their new found knowledge on their own, or at their schools, once they have finished the Academy.
Our Arduino Academy kicks off working through a basic experimenter's kit to get an understanding of circuits and basic Arduino programming. The following two days are spent working through combining various components to create an interactive project. Over the years, the groups have built a line following robot, created a pong game or got environmental sensors to record details.
"I regularly attribute landing my role and my career progression at Catalyst to having been a student at the Catalyst Open Source Academy in 2014. I didn't know that choosing a project for Academy project week at 15 years old would be one of the most significant decisions I might ever make in my career!"

Aleisha, Open Source Academy 2014, Catalyst Open Source Scholarship, Catalyst Full Time Employee, Koha Technical Lead

Interested?
If you follow @CatalystAcademy on Twitter, you'll stay up to date with the latest news.

If you are a Year 11 to Year 13 student at a New Zealand school and are interested in being put on the waiting list or to be notified about future Academies, send an email to academy@catalyst.net.nz.
We have opened the applications to the 2023 Catalyst Open Source Academy for the 9th to 20th of January 2023

Aimed at senior secondary school students, our Open Source Academy is 2 weeks of learning about, and working with, Open Source technologies.

The first week is learning about the common tools and practises that we, at Catalyst, use for our clients. We use the process of building a small application to cover things such as licencing, accessibility and understanding the requirements of the application. The application comes together as we learn about HTML, CSS, Javascript, Apache, MySQL, PHP and Python. We do this on a laptop the students have installed Ubuntu on and a server they have configured on our Catalyst Cloud.

The second week has a focus of working on a real Open Source project. Working with developers who really know the project, the students work towards getting a patch into the source code of the project. Previous years we have had Koha, Mahara, Matomo, Drupal and Silverstripe as options the students could choose from.

If you, or someone you know, are interested and in Year 11, 12 or 13 at Secondary School and can be in Wellington for the Academy (9th to 20th of January 2023) fill in the linked form for the Application.

We are accepting registrations until 17th of November for the places we have available. If you have further questions, contact Ian at academy@catalyst.net.nz